# Getting to Know FireQ
FireQ-RVS (FireQ) is a two-part system, consisting of computer software and a smartphone app. The fire department management software collects and manages the data needed to run the fire department; and the FireQ smartphone app lets firefighters send and receive critical information. FireQ provides firefighters with department management tools, robust reporting, dispatch support and multi-channel communication options. Together, the FireQ app and software offer fire departments and firefighters one of the most comprehensive suite of tools available. Your FireQ system is a complete set of tools that will:
complement pager notification with text and phone calls from dispatch
assist with the management of your fire department
track incidents and response
communicate with firefighters during an emergency
store and track pre-plans
map assets
track communications
manage personnel
track equipment and maintenance
provides multiple channels for non-emergency communications.
The FireQ system is modular in nature and includes:
The FireQ Notification Center
The Incident Center
The Mapping Center

There are also modules to track equipment, training, certificates, apparatus and other fire department activities.
# The FireQ Notification Center
The FireQ Notification Center is the dashboard and hub for department communications. When there is no active incident, the FireQ software opens to the Notification Center. From here, firefighters have a customizable dashboard that displays:
Fire department statistics - At a glance, firefighters can see the total number of incidents, training, activities and certificates accumulated by firefighters, as well as the total number of hours associated with each.
Bulletins - Bulletins are informational messages that are sent via text message, push notification and attached to the bulletin board in the ForeQ Notification Center. Bulletins can be scheduled for future release and they can be assigned expiry dates.
Alerts - Alerts are reminders from the FireQ system about expiring equipment. Alerts are created when expiry information is assigned to equipment and certifications.
Off-duty members - Firefighters using the FireQ app can mark themselves off duty as well as the date on which they will return to duty. Firefighters who are listed as off-duty appear on the dashboard.
Weather details - Current weather details can be made visible in the Notification Center.
Recent incidents - A list of the most recent incidents to which the department has responded can be made visible on the Notification Center.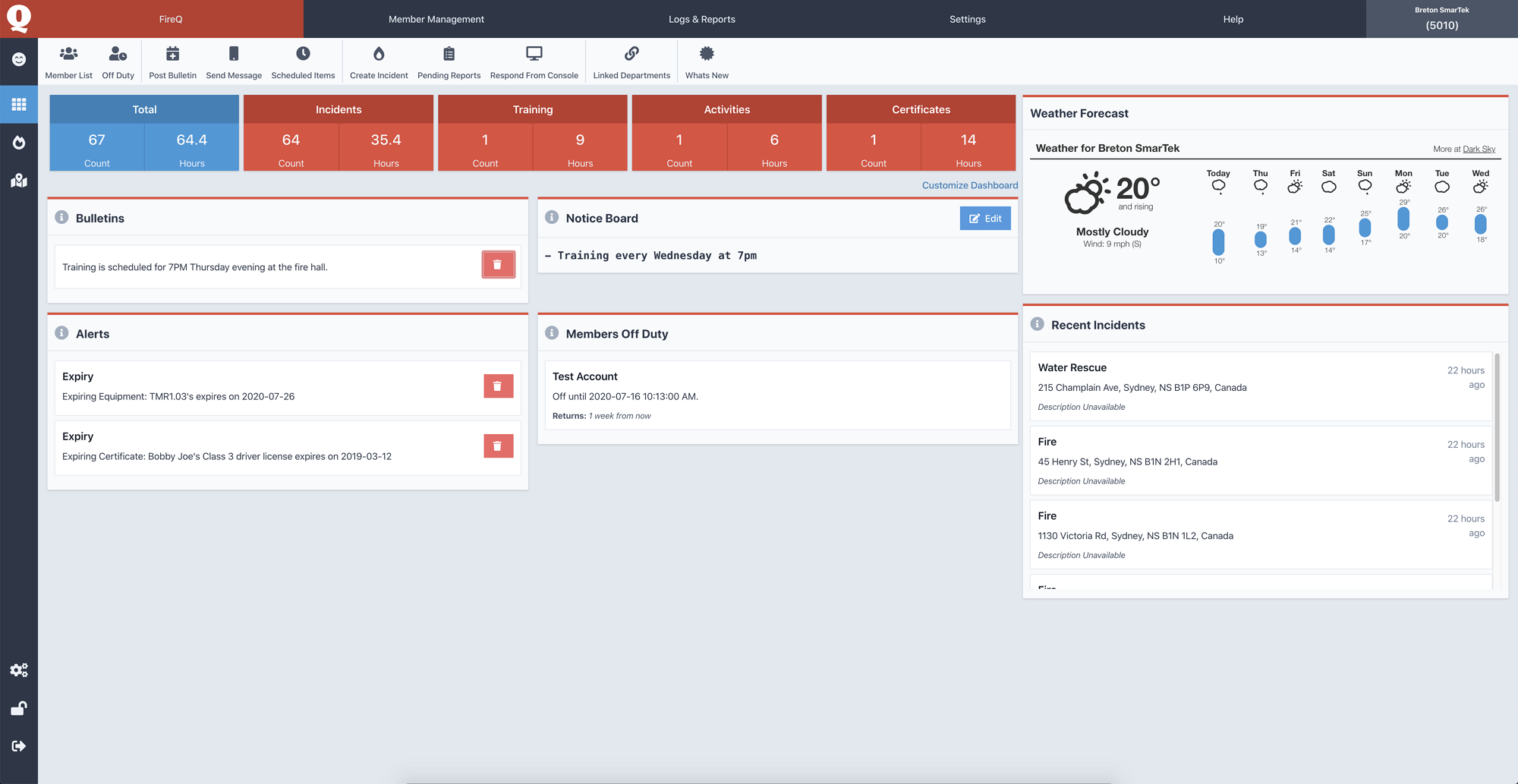 # The FireQ Incident Center
During an active incident, the FireQ software view defaults to the incident view. From the incident view, firefighters can:
View of a map of the incident location
View incident details
View a colour-coded list of responders, with estimated time of arrival to the fire station
Update the incident
Close the incident
Change the map to a street view or a satellite view
# The FireQ Mapping Center
# Frequently Asked Questions
Q: I didn't receive a text message or a phone call, why did that happen?
Please make sure that each of your members that expect to receive a phone call have a phone number entered in their profile, also check that their communication preferences allow text and calls.
Q: How come there is no invitation button next a members name?
If the invitation button does not show next to a members name, that means that they have already been invited, already signed up, or do not have an email address entered in their profile.